PM 6100 - Six Signs Comprehensive Monitor
 Features
The PM 6100 patient monitor integrates the functions of parameter measurement and waveform monitoring. It's color TFT liquid crystal display is able to show patient parameters and waveform clearly. The monitor also features compact size, lightweight, easy-to-carry handle and built-in battery, which makes it portable in the clinic, ward and even at home.
This device is capable of monitoring the following parameters:

ECG (Electrocardiogram)

HR (heart rate)

NIBP (non-invasive blood pressure)

SpO2

PR (Pulse rate)

TEMP (body temperature)

The One-Button-Design makes the monitor an easy-to-use system, so the operations can be conveniently performed.

This monitor can be connected with other smart terminals such as a PC, iphone and Android phones.

The device supports both Bluetooth 3.0 and BLE 4.0 communication.
Characteristics
Portability enabled

Battery powered

Chargeable via USB

Cloud data storage

Online web access to historic data

GEO location enabled

Secure data end to end

Encrypted data storage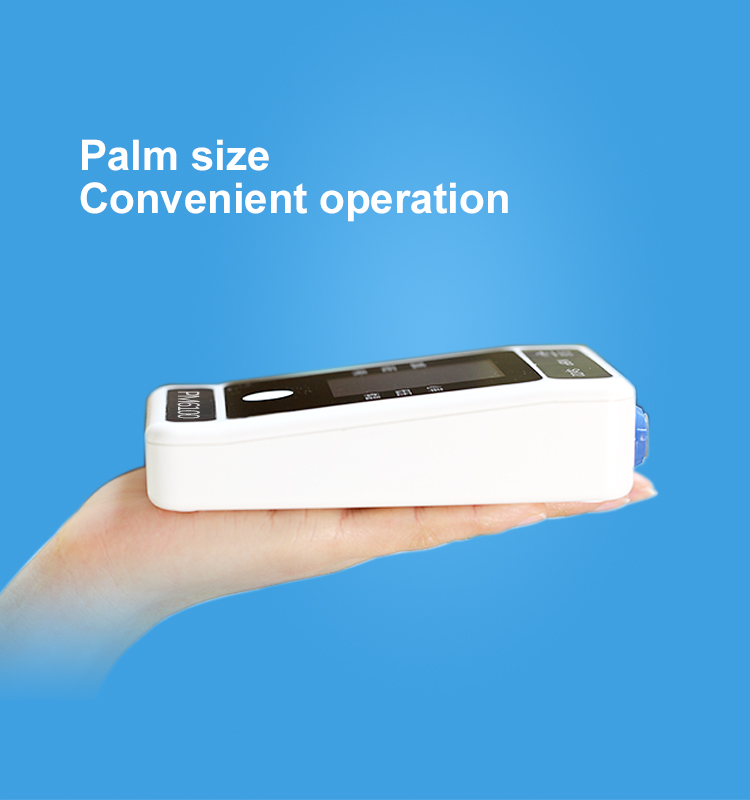 Specifications
Physical

 

Length:

145 mm

Width:

85 mm

Height:

37 mm

Weight:

240 g

Display:

2.4 inch color TFT LCD

Battery:

3.7v, 1800 mAh, built in

AC Adapter:

Input: AC 100 - 240v ~ 200 mA

Output: DC 5v, 1A
Temperature

Operating:

-10℃ ~ +40℃

Storage:

-25℃ ~ +85℃

Humidity

Operating:

30% to 85% (non condensing)

Storage:

30% to 95% (non condensing)

Atmosphere pressure

Operating:

86kPa ~ 106kPa

Storage:

50kPa ~ 106kPa
ECG

Waveform:

Lead I

Gain:

2.5mm/mV, 5mm/mV, 10mm/mV, 20mm/mV

Band width:

0.05Hz-100Hz(3dB) diagnose mode




1 ~ 40Hz monitor mode




0.1 ~ 25Hz operation mode

Heart rate

Scope:

15 bpm to 300 bpm

Accuracy:

±1 bpm

SpO2

Measurement scope:

35% ~ 100%

Accuracy:

±1% 90% ~ 100%




±2% 70% ~ 89%

 
NIBP

Cuff inflation time:

less than 15 seconds

Initial inflation pressure:

Dynamic state 24kPa (180 mmHg)

Measurement range:

| | |
| --- | --- |
| Systolic blood pressure: | 4kPa ~ 34kPa (30mmHg ~ 255mmHg) |
| Diastolic pressure: | 2kPa ~ 29.3kPa (15mmHg ~ 220mmHg) |
| Mean pressure: | 2.7kPa ~ 31.3kPa (20mmHg ~ 235mmHg) |

Measurement accuracy (Static pressure):

±4mmHg

Resp

Measurement methods:

Chest impedance method

Range of chest impedance method:

0 bpm to 100 bpm

Accuracy of chest impedance method:

±1bmp

Temp

Single/double path

Type:

Vascular/surface temperature

Scope:

20°C ~ 50°C

Accuracy:

±0.2°C