Container Management System
Harpan in association with market leaders has developed a comprehensive Container Management System for use container depots. A windows environment together with MS SQL server is used. The system can scale from a single user to multiple users over a vast geographical space connected via diginet lines.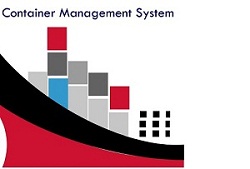 The container industry is a dynamic one and this results in new requirements from the depots and their clients on a regular basis. Harpan constantly keeps abreast of changes in the industry and upgrades the system on a regular basis. Features of the system include amongst others: Tracking, Pre-advices, Change of Ownerships, Status changes, Repair Quote, Reefer Detail, Storage and handling, Physical stock, Gantry, Adequate reporting, Export of Financials, EDI, Central Invoicing, Debtors Control, Automatic emailing of reports, Information on the Internet. I am quite certain that the new system will enhance your communication with the clients and hence satisfy clients' requirements. Further the assimilation and flow of information within your company will be improved saving you time and money.
Features
Setup
Container Management System has been developed using a normalized data architecture where a number of setup detail is completed prior to the main detail. All the setup detail will generally be captured first to facilitate the capture of the operational information. This process validates and maintains the consistency in the database. The process also speeds up data capturing, as details that are already captured need not be retyped.
Container Tracking
The Tracking screen forms the core operational facility of the system. This has been carefully designed to minimise navigation and maximize productivity. The features includes amongst others the following: Pre-advise, Tracking In/Out of containers, Status changes, Change of Ownership and Applying Additional Charges.
Inward and outward pre-advices are captured to facilitate data capture and verify details when tracking. Certain details captured on the inward and outward tracking are verified to avoid miss-releases and / or incorrect data where possible. Stock take and verification is a necessity as this will reveal containers that are the depot and not tracked in or containers that are tracked in but are not in the depot. CMS has the latest facility to allow the depot to take a static stock and thereafter continue with the stock and tracking of containers in and out simultaneously.
Repair Quote
An important facility in any depot is the repair of containers. This can result in rather tedious capture and calculation. All events from the quotation to the completion of the repair and invoicing have been automated. Quotes can be emailed to the client on demand. This speeds up the exchange of information with the client and hence offers a better service to the client.
Gantry
The tracking of container locations in a space covered by a gantry can be a very complicated task if not controlled properly. If data is not updated in any system manual or computerized the data is unusable and all efforts are in vain to use such a system. CMS has a simple facility to track movement of container in gantry. When containers are tracked out they are automatically moved out of the gantry and the slot becomes available.
Reports
Ample reports are provided for the depot and clients. Further a power query facility is provided to query depot stock using the most commonly asked questions. Variables that are used are Service Type, Status, Client Name and ISO Type. All reports are printed on A4 plain paper reducing the cost of preprinted stationery to a minimal.
Benefits
Financials
An important part of any system / organization is it ability to maintain accurate records of its financials. This is done with minimal data capture as it is driven primarily from the operational system. Therefore it is important for the operational information to be accurate as this will lead to the automatic invoicing. The system has facilities for invoicing and credit notes that lead to statements. A number of reports are available to compliment the financial system. Further the invoices and credit notes can be exported to an external financial system if required.
Flexibility in the system allows facilities to use a decentralized or centralised financial system.
EDI
As we are in the information technology era clients demand information to be sent to them via EDI. The system has facilities to send EDI messages live or in batch mode to clients when tracking containers or performing status changes. Further repair quotes can be sent via EDI as well.